Every year Oprah does her "favorite things" show. I never watch it. I do however, really like the idea of it. So, I figured I would put up some of my very favorite things.
I am a ring girl through and through. Part of this is because I have ridiculously big wrists (yet again, the nearly-man-sizedness) and boobs, so bracelets are out and both chokers and long necklaces aren't great on me. Part is because of the sparkliness of the rings. I have all types, but the bigger and more over the top, the better. (I will post a picture sometime so you can see what I'm talking about). My favorite of all of my rings though, is my wedding ring. T
he solitaire belonged to Zac's grandma. It's absolutely beautiful...and big. We picked out out bands at Jared and I was really surprized at my pick. I really love that I can drop my solitaire into the band and I didn't have to get it soldered, so there was no risk of wrecking up the ring. I've yet to see another ring that I like more. I just think it's really special and I LOVE it!
These razors make shaving tolerable. Not only do they do a great job, I never get razor burn or cut myself, but they are fairly long lasting for a disposable. Plus there is always a coupon inside for a dollar or two off you next razor purchase.
My mama picked these bad boys up for me at Wal-Mart and I swear there is not a day that goes by that I dont wear them. I wore out my pair from last year. They are fuzzy and SO warm, but not so much that they make your feet sweat, which, lets be honest, is unattractive. Probably my favorite thing about them is that you can throw them right in the washing machine and dryer and they puff back up inside and it's like hav
ing brand new slippers. Awesome!
Gallery Leather Day Planners
I buy one of these every year. They come in great colors and patterns. Red, pink, purple, black, snake-skin, all are just perfect. They have the little ribbon inside to keep your spot. For some reason, it just makes me feel a little fancier. I almost feel bad whenever I mess up and have to scribble something out. I generally pick mine up at Marshall's or TJMaxx for $10. It's totally worth it.
What can I say, I'm addicted to Chapstick like it's crack. I have two tubes in my purse, one in my car, one by my bed, one in my makeup kit, and one (at least) at work. I don't really dig on the flavored stuff, I prefer the blue tube. I really can't go a day without it. I get all Napolean Dynamite, "my lips really hurt." Seriously, its bad. I would be lying if I said I had never used a co-workers chap without their permission (sorry Connie).
My mom got me my first mustard seed necklace when I was in high school. I wear mine literally every day, it goes with everything. It has the verse from Matthew "if you have faith as a grain of mustard, nothing shall be impossible unto you" engraved on the back. I feel like it protects me and I find that I tend to rub it when I am thinking. I forgot it today and kept grabbing for it the whole time I was at work. I have always loved this necklace, so much so that I bought all of the mustard seed charms my mom's friend had and I keep them in my jewelry box to give to my future daughters. I really do cherish it.
My family will vouch for me on this one. I have always loved to read, but I also love old books. I just think the spines are so beautiful especially the ones that are silver or gold leafed. I have a few that continually move with me. My very favorite is a collection of short stories and poems called One Thousand Beautiful Things. It has a tan, aged cover and a red spine with gold leaf. I also love my collection of coffee table and design books. I never hesitate to drop 20 bucks on a book, when I would seriously debate 20 on a shirt or more home decor.
Glitter (not to steal from Annie's obsessions)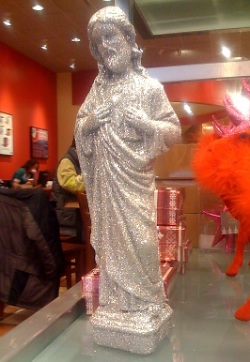 I bought this glitter Jesus a year ago to add to my Christmas decor. I also have a full on glitter reindeer too and I bought 5 all glitter ornaments. I swear, I just can't resist it. I always joke that my mom, sisters, and I are like racoons, if we see something shiny, we have to stop and look at it and pick it up. I just love this Jesus....I kind hope when I eventually get to meet the real deal, he has glitter in his robes :)
This very day one year ago Zac gave me a laptop. It's a MacBook and I couldn't be happier with it. I had told him not to buy one because of the expense, but from the moment I opened it I loved it. This is the 3rd Mac Zac and I have owned, and they are all up and running and fully updated. Not to be snobby, I would never go back to a PC. I dig my computer that much, and I'm not even a techie.....which is another reason why I put of starting my blog.
Hahahaha.....there is no picture here because I just tried to cut and paste two pictures from the internet and it kept sending me to a different web page when I pasted them into my blog...so I gave up. This is what I mean. I'm not that computer savvy.
And last, but certainly not least TRAVEL!!
Zac and I have been very fortunate to have friends and family in wonderful places. Better yet, they let us stay with them for free. For that reason, I've been to Florida many times, the Virgin Islands, New York, the Dominican Republic, the Bahamas, and all over Europe. I wouldn't trade those memories for anything. You only have to see the pictures to know why. The first is a picture of one of the patients I saw on my mission trip to the Dominican. The second is one of the thousands of narrow streets in Venice. The third is s Zacman on our honeymoon. The fourth is Zac and I at Emerald Beach in St. Thomas.
These are my favorite things....my truly truly favorite things.